Regular price
$65.00
Sale price
$45.00
Unit price
per
Sale
Sold out
Schismatoglottis Wallichii have leaves that are oblong in shape, and almost form a heart shape at their centre. The pattern on each leaf resembles the flowing wrinkles and patterns of a bedsheet, or a flying flag.
They are native to Thailand, Borneo, and Malaysia, growing on the floor under the jungle canopy. In the jungle the receive bright indirect light. They are found in areas with soil that gets wet, but dries quicker.
In this article we'll show you how to care for a Schismatoglottis Wallichii, including what soil and humidity it prefers and whether it's suitable for pets.
Schismatoglottis Wallichii Care
Schismatoglottis Wallichii, like other indoor house plants, come from lush forests and jungles. When bringing them into our homes, we must recreate the living conditions naturally found in the jungle.
The following article explains how to keep a Schismatoglottis Wallichii plant healthy for years to come.
Schismatoglottis Wallichii sun requirements
Schismatoglottis Wallichii prefer bright indirect sunlight. For optimal growth, place them 2 to 3 feet from a south-facing window. They will receive adequate sunlight to grow healthy large. While they can tolerate low light, they will grow faster if provided with more light.
If at all possible, keep your Schismatoglottis Wallichii in a warm location as well. The higher temperature will produce more humidity. We try to replicate the warmth of the countries where this plant originates.
Schismatoglottis Wallichii water needs
Between watering, it's better to let them dry out completely. When the soil begins to pull away from the container's sides the moisture in the soil has nearly completely evaporated.

Check for moisture by pressing your finger into the soil about one inch. If your finger is dry and there's no soil sticking to it, then you an water your plant again. When you lift the pot up it should feel light, and that's another sign that you can give the plant a good soak.

During the summer we tend to water more frequently as the plant is exposed to considerably more sunlight. The summer sun will help your Schismatoglottis Wallichii grow at a quicker rate, so it will use of more water. In the winter, the plant sees overcast days more often, so watering every-other week will be common, but check the soil to see how your plant is progressing.
Soil requirements
Your Schismatoglottis Wallichii will establish larger and stronger roots if you use a well-draining potting mix from any local garden supply shop. Although most potting mixes contain perlite, adding a few extra handfuls of perlite can help your soil retain and distribute moisture.

We prefer fertilizing plants using an all-natural plant fertilizer. Liqui-dirt is diluted and is safe to use during every watering.
Humidity requirements
A Schismatoglottis Wallichii will grow well in many household conditions. House humidity in Canada is usually in the range of 30% to 40%, and your plant will adjust to these humiidty  levels easily.

Schismatoglottis Wallichii are tropical plants, so adding extra humidity from time-to-time is great. Adding plants to a bathroom is very common, and it will love the additional humidity from your hot baths and showers.

Moving your plant around the house is something you need to ponder, and we have a quick video here on that topic.
How to Propagate a Schismatoglottis Wallichii
Schismatoglottis Wallichii can be easily propagated, and process is not hard at all. Anyone can do it. It is similar for variety of other tropical house plants.
Soil Propagation Method
When you're ready to propagate, fill a growers pot (or plastic cup) with the soil you like (please read about soil requirements above).
Cut a piece of your Schismatoglottis Wallichii below a node on a branch. The node is what will put out the new roots.
Place the cut piece in the soil immediately and add water. When growing new roots, the soil must be kept moist. Keep it more wet than you normally want for this plant. The water will stimulate new roots and growth in the plant.
As the roots grow, the Schismatoglottis Wallichii will grow into a whole new plant.
Water Propagation Method
Fill a small jar or cup with clean filtered water. Try not to use city water from the tap. City waters contains chlorine, which is safe for humans, but not new plants.
Cut your Schismatoglottis Wallichii below a node on a branch. This node is what will put out new roots.
Place the cut area in the water right away. After a few weeks you will see that it has put out roots. You can now transfer your plant to pot with soil.
Schismatoglottis Wallichii Varieties
There are over 22 varieties of Schismatoglottis plants. As with most house plants, each variety has slight changes to its foliage.
To see a different variation of Schismatoglottis, check out the Schismatoglottis Motleyana. The leaves of the Motleyana have a similar shape, but the lighter colour stays to the inside of each leaf.
Pest Control with a Schismatoglottis Wallichii
Every plant we have, indoors and out, are susceptible to a pest from time to time. The more plants you have, the more chances that a bug from an open window or a walk outdoors will find your plant Since your plant is a healthy plant, and bugs love healthy plants; they will make a home in your nutrient rich soil.
There's no need to worry! It's part of owning a plant. We sell Koppert's pest control products, the best in the business. Koppert's is the same company that organic food growers use to prevent and manage pests.
As usual, contact us if you need any help with pests. We love to help and find the right products.
Are Schismatoglottis Wallichii Plants Pet Friendly?
This is not a pet friendly plant.
We hope that plants are kept out of reach of pets and children. Plants cause irritation in your furry friends' mouth. The irritation should deter them from eating again (what nature intended), but keeping them out of reach is always the best idea, as higher levels of ingestion can be dangerous.
Conclusion
A Schismatoglottis Wallichii is an absolutely stunning indoor house plant. With its green leaves and ring of colour, it will draw attention and be perfect in your office or quiet living room.
It is easy to care for, which is also why it makes a great plant for those new to the hobby, or who want more freedom with watering requirements,
Buy one today from our plant shop, or contact us for more information. We offer plant delivery in Ontario.
Share with friends
View full details
Jaimie B.

May 6, 2023

I wish all plant stores were this informative and approachable! I will certainly be back soon.

Read Jaimie 's full review

Rondi H.

May 9, 2023

If you love plants, have any questions about plants, or are buying plants for the first time, in a queer safe space please check out Gold Leaf Botanicals

Read Rondi's full review

Laura Y.

May 2, 2023

Excellent! Exactly what I have been searching for in terms of indoor plants. Staff was incredibly knowledgeable, helpful and friendly.

Read Laura's full review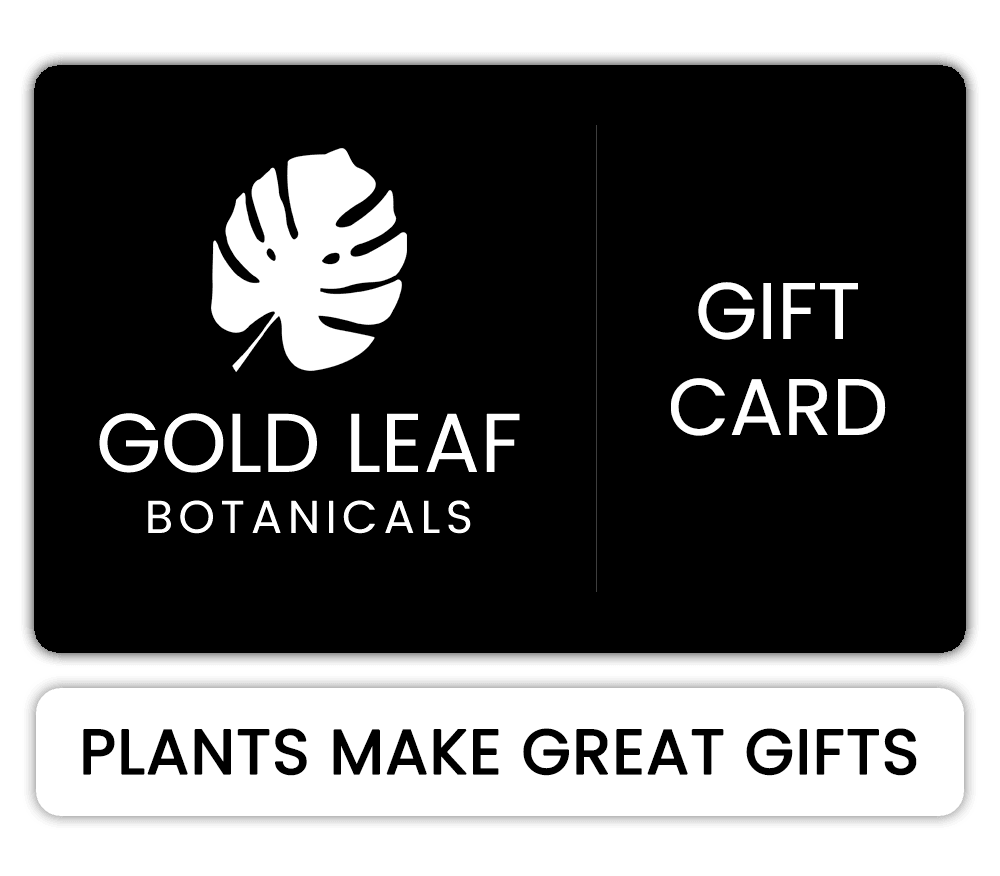 Gold Leaf Gift Card
Regular price
Sale price
$10.00
Unit price
per
Sale
Sold out
Share with friends!
View full details